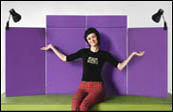 When ordering your table top display board compare features to the competition such as weight of display, mechanical precision and durability. Does their display have 360 degree folding metal hinges? Or just Velcro hinges that are very unstable? Does it have an interior frame instead of an external one where the corners can open up? Do you need a table top display board with an uncommon size? We build displays to any size, shape, color or panel configuration. Pricing is determined by what the next larger size would cost.
Pricing table is set up first by individual panel size, width by height. The next columns determine how many panels hinged together you need to form your table top display booth and whether you want Velcro loop fabric on one side or both.
If you have any questions our experienced sales staff will be happy to explain the ins and outs. Ordering is best done by telephoning our (800)791-1819 toll free number or (347)277-8103 where purchasing a presentation table top display in any size, shape and color or quantity is fun and easy. We can equip your entire sales force or single entrepreneur with the tabletop display boards perfect for their needs exactly when they need it. Inquire about our rush services. We prefer telephone orders instead of using an online order form so that we can provide you with the excellent personalized customer service we are famous for. Everyone has questions and it's our number one priority to make sure that you are completely satisfied.